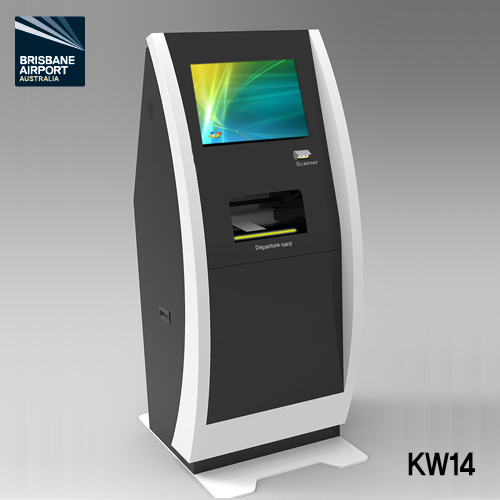 On some models, the corresponding model to develop a reasonable price and fast delivery to its own design from K-KIOSK can be sold immediately available to off-the-shelf sales

Contact Sales : 7kiosks1@gmail.com

Airport kiosks_KW14

Standard Kiosk is an interactive touch-screen device which can be installed at public offices, banks, airports, supermarkets and retail stores. Not only can install a touch-screen sensor but also a keyboard, RFID, printer and scanner. It is used as a internet computer, receipt issuing machine, parking guidance machine, and payment machine, interactive way-finder.

■ Features

Design likes ATM, Short height let users can easily use the kiosk, easy to maintain the devices, can install various devices, easy to access due to flat bottom panel.

■ 1.6mm CR-Steel

CR-Steel features glossiness and brightness of surface. It is thin, but has extremely strong hardness which makes KW19 much sturdily.

■ Epoxy Coating

Epoxy coating – prevents abrasion and have beautiful luster – is used for finishing materials of floor and wall. Also, it is easy to maintenance.
Width:
Height:
Depth:
Weight:
Power:
Operating Temperature:
Humidity:

Size:
Resolution:
Available:
15"
1024x768
17"
1280x1024
19"
1280x1024
21.5"
1920x1080
23"
1920x1080
32"
1920x1080
42"
1920x1080
46"
1920x1080
47"
1920x1080
55"
1920x1080
65"
1920x1080
-
-
-
-
-
-
-
-

ADA Compliant
Weather Resistant

Hardened 6mm Tempered Glass
TFT LCD & Touch Sensor 22" - 82"
Touch Panel
PC (XP, VISTA, or LINUX)
Flight Case
Webcam
WiFi (Wireless Internet)
3M Logo Branding

Enclosure
Cabinet Keys
Power Cable