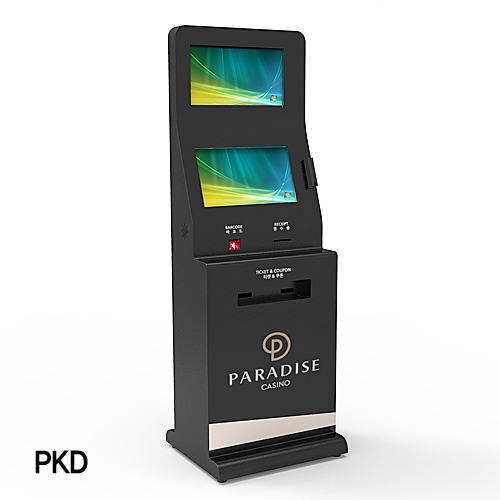 ▶ Internet Kiosk
▶ ad spot
▶ ticketing kiosk
▶ Information epicenter location
▶ Interactive Directions
▶ Reception (Reception) Location
▶ Exhibition kiosk

The PKD model is the 21.5" dual monitor, and can have the advertisement effect through company advertising image at its top and is equipped with IR touch at its lower. It also allows for ticketing and card payment after searching for existing members.
The model has devices such as card reader, bar code reader, and thermal printer (receipt) installed and is a kiosk that can use in a customized manner depending on the intended use.
Width:
670 mm
Height:
1966 mm
Depth:
570 mm
Weight:
70~90kg
Power:
International 110–240 AC Power
Operating Temperature:
0° – 55° C
Humidity:
10% – 90% relative humidi

Size:
Resolution:
Available:
15"
1024x768
17"
1280x1024
19"
1280x1024
21.5"
1920x1080
23"
1920x1080
32"
1920x1080
42"
1920x1080
46"
1920x1080
47"
1920x1080
55"
1920x1080
65"
1920x1080
-
-
-
-
-
-
-
-

ADA Compliant
Weather Resistant

Hardened 6mm Tempered Glass
TFT LCD & Touch Sensor 22" - 82"
Touch Panel
PC (XP, VISTA, or LINUX)
Flight Case
Webcam
WiFi (Wireless Internet)
3M Logo Branding

Enclosure
Cabinet Keys
Power Cable