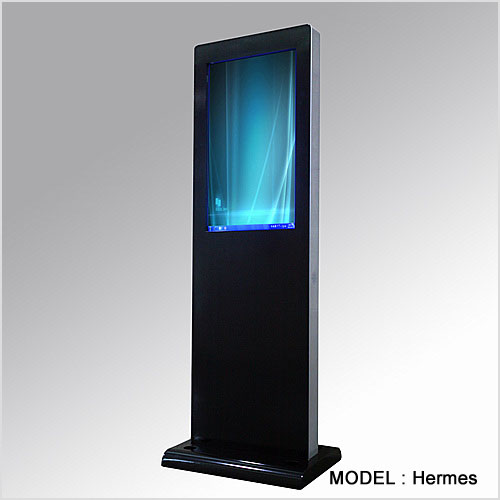 ▶Parking control system
▶Parking information system
▶Advertising
▶Digital Signage

HERMES boasts of low power consumption and high image quality through the use of a 32-inch TFT-LED. This has a wide viewing angle and makes it possible to see clearly at any position and express interactive content look well at high reaction speeds.
HERMES has a special internal design to prevent the deterioration of performance while reducing the size, as compared with the existing models. Also, this allows for easy, simple replacement of internal devices through modularization of all parts to ensure users can address any breakdown easily, which may suddenly arise.
Width:
592 mm
Height:
1730 mm
Depth:
400 mm
Weight:
80 kg
Power:
International 110–240 AC
Operating Temperature:
0° – 55° C
Humidity:
10% – 90% relative humidity

Size:
Resolution:
Available:
15"
1024x768
17"
1280x1024
19"
1280x1024
21.5"
1920x1080
23"
1920x1080
32"
1920x1080
42"
1920x1080
46"
1920x1080
47"
1920x1080
55"
1920x1080
65"
1920x1080
-
-
-
-
-
-
-
-

ADA Compliant
Weather Resistant

Hardened 6mm Tempered Glass
TFT LCD & Touch Sensor 22" - 82"
Touch Panel
PC (XP, VISTA, or LINUX)
Flight Case
Webcam
WiFi (Wireless Internet)
3M Logo Branding

Enclosure
Cabinet Keys
Power Cable